Build with a name you trust!
Clary Residential & Commercial Contractor Testimonials
Dianne Wilson - Dream Kitchen
I have my dream kitchen thanks to Renee for her fabulous design, Charles for his excellent crew and Steve for putting it all together. And last but not least, Steve Balzer for being the best super a project could have.

The workmanship and expertise is beyond reproach. There are no words to express how much I enjoyed having the Clary's doing the remodeling of my kitchen. I would recommend them in a second.

Thank you again...it's truly a beautiful!
Dianne
Click Here to see the pictures of this project!
Renee, I want to tell you that you truly have a gift in that you know how to work with your customers. Everyone at our open house party asked me who was our architect and designer. I proudly told them that we only worked with Renee & Charles Clary, our contractors. They were astounded!
I want to give credit where credit is due. And, that is to CCC Holding Company. You and Charles and company (Steve Balzer) have such a future in the business. Gaylord and I want to thank you for making our dreams come true!
Click here to see this project!
Thank you for an excellent and prompt job!
Thanks again for getting the house tied down and spruced up. We will rest a lot easier if we are threatened by any hurricanes. You can use us for a reference any time.
Thanks for everything! The building is GREAT!!
Thank you for all of your kind words throughout my tragic episode. I don't usually pay in full prior to completion; however, I believe the Clarys are very honest and dependable people.
Robert Marquand - Multiple Projects
I am a journalist working overseas who was born in Melbourne, and who has needed help with a number of local Brevard properties. My brother and I found CCC Holding Company in 2003, when we were seeking bidders for a major renovation for a riverfront property. The reasonable bid and then CCC's attention to detail during the work, which involved a major gutting and refurbishment, was confidence building. They were easy going and friendly, but when it came to finishing the job, they were 'on target.' If we found problems, they fixed them. Their approach and work were first rate and good value. This experience led me to have refurbishing done on a home in Melbourne central -- which they handled without my needing to constantly check up on things. They then did a 'round two' on that property, and a round three when it was sold! The nice price we got in the middle of the housing slump is partly due to the kind of work CCC and the team did. I might add that several of the senior team brought to work on these sites were scrupulously honest, and looked out for our family interests and property in ways they didn't have to, and that some crews would not. Our experience with CCC has been a good one.
Beth A. McIntyre - Entire House Remodel
Our experience with CCC Holding Company was wonderful. We remodeled our entire house, inside and out, as well as an addition to the master suite. The results are a transformation of a house that one would no longer recognize. The complements that have been received on the workmanship and attention to details are numerous and I would highly recommend CCC Holding Company to anyone contemplating remodeling.
Click here to see this project!
James & Heather Stables - Homeowners
We are writing this letter to share our absolute satisfaction in your recent work for us. The manner in which your subcontractors met deadlines and provided quality work is to be commended. Oftentimes, quality will suffer when deadlines are looming and it is a true credit to the philosophy you have imparted on your partners. Thank you so much for your prompt response to our many questions and your thorough completion of our addition. As the spring and summer months approach we are excited to be able to enjoy the beautiful Florida weather in our covered screened back porch. We will definitely contact you if we are in need of any construction services in the future.
Louise Castro - Repeat Client
When we found structural water damage to a corner of our home at the end of last year, we called you and once again, you came through for us. You strengthened the foundation and waterproofed the entire front of our house. That was the third time we called you to help us maintain and enlarge the structure of our home and you did not disappoint. We consider ourselves lucky to have found a company we can trust to take care of all our construction needs. Santos and I have recommended you to several of our friends and acquaintances and will continue to do so in the future.
Connie Chiles-Cooke and Steve Cooke - Home Reconstruction and Office Build
Charles "Where can I start….you guys are wonderful!! In today's challenging world it is so refreshing to deal with honest, ethical and quality companies. CCC Holding Company is definitely all of these. Starting with the build out of our previous office on Hibiscus, to the outstanding way you handled our reconstruction of our home after the 2004 hurricanes, to the build out of our current State Farm Agency, you all have been the best. You may always use our name as a reference because you stand behind your promises and often go above and beyond to be fair! Thank you for your outstanding service.
Joyce Northrup - Construction of 3 Car Garage
My husband and I engaged CCC Holding Company to erect a three-car garage at our home. We had the house built in 1984 and have resided at the site since that time. We had been discussing as to whether we should invest a substantial amount of money in this type of construction or relocate to another area. My husband had done many renovations to our home himself through the years, but we decided to outsource this venture. I have been in the title insurance for real estate closings industry in the Palm Bay/Melbourne area for approximately 25 years and have general knowledge of builders. This testimonial is to express our appreciation and to say a big THANK YOU for the professionalism and the knowledge which was displayed to myself and my husband during our construction project.
Louise Malone-Castro - Living Room Extension
My experience with CCC Holding Company was a very positive one. Our construction project (an extension to our living room) was completed while we were visiting family up north. It started the day after we left and it was completed about a week before we came home. We were gone 6 weeks; the project was done in 5 weeks. The house was spotless when we arrived home. The yard was free of any trash, dumpster and construction signs gone. The work was done exactly as we had planned including the ceiling fan placements, flood lights, our beautiful 10-foot sliding door and breathtaking hardwood floors. They matched the siding and the roof tiles so perfectly, it appeared to have been there forever. The CCC experience was highlighted by their attention to detail – details that only a perfectionist like myself would notice. Steve Clary wanted me as happy after the project as I was before we started – and I was!
P.S. CCC Holding Company said that one of the advantages to using their company was that we would be at the top of their list if we needed them after a disaster or in an emergency situation. They proved that point when I called them after Hurricane Frances and they repaired our roof in less than 4 days.
Nick van Vonno - Kitchen Rehab
I'm writing to express my satisfaction with our recent rehab project at my residence on Riverside Drive in Melbourne. This was a project of quite considerable scope. The kitchen was demolished back to the walls and all existing tile floors were removed. An existing window was widened and a new window was installed, followed by a new kitchen and hardwood floors. You hear all sorts of horror stories about rehabs and about kitchen rehabs in particular, but this rehab was a smooth, well-executed project. People showed up on time and got the job done. There seemed to be genuine concern about getting the project completed (and about Sue and I having to cook in the garage). I found your employees to be professional and very easy to work with. Cleanup following construction was meticulous, and we have encountered no problems with any of the work performed. The kitchen with the extra window area looks spectacular. Charles Clary was excellent. Any time he was on the site, we got lots accomplished, and got it done right. Creative guy, and a perfectionist; must be that custom motorcycle experience! These existing construction jobs are never easy, and I appreciate the care and craftsmanship that went into the project. I would highly recommend your company for any construction task.
Elisabeth Patient, Hospital Manager - Hospital Renovations
This letter is in regards to the renovations done at our hospital by CCC Holding Company, Inc. We are very pleased with the work and would not hesitate to use them in the future. They worked hard to accommodate us as a working hospital so that we never had to close or turn away patients because of construction. They were on time and arrived when they were scheduled. Numerous changes were made during the course of the renovations and they were very accommodating to our needs and in making these changes. The work done is high quality and we are pleased with the finished product.
Bob and Maria Hornor - "Except For"
Lived in this house since 1988
Loved the lot
Loved the location
Loved the house, except for…
The small bathrooms, closets and no porch!
Upgraded over the years
We handled the small and medium
Floors, countertops, paint and appliances
Loved the house, except for…
The small bathrooms, closets and no porch!
One day we decided to take the plunge
Hire the Clarys to do the large
Steve was in total agreement, said he would hand it over to the 'Design Dept'
Loved the house, except for…
The small bathrooms, closets and no porch!
The 'Design Dept' AKA Renee drew many a variation to meet our vision
Good thing, as our vision was lacking some important details
The contract was signed and the transformation began
Loved the house, except for…
The small bathrooms, closets and no porch!
We moved from one room to another to accommodate the change
The vision began to take shape
But Charles wondered about a house with no vision for a driveway minus pot holes
Loved the house, except for…
The small bathrooms, closets and no porch!
Finally the work was done
A new driveway was added
The bathrooms, closet, porch and pool are superb
Love the house, except for… Lack of a summer kitchen!
No time to do the job ourselves
The Clarys are called and the 'Design Dept' arrives to take notes
The final upgrades of summer kitchen and new windows are completed
(including our window of opportunity)
After 20 years
We love our house!
Many thanks to Steve, Renee, Charles, Steve B, and Cathy for turning our home into our vision. We no longer talk about our 'next' house and what it will have. Not a week goes by that we don't comment on how much we love the changes and how happy we are that we decided to have the Clarys make our vision a reality!
Peter and Deborah Peterson - Major Home Renovations
Deborah and I had a major renovation completed on our house in the summer of 2003. Prior to beginning construction, we solicited bids from three reputable firms to complete the work on our dream home. CCC Holding Company stood out from day one. They responded immediately, answered all of our questions, and provided all of the information we needed to make our decision. As a Professional Engineer who deals with contractors on a daily basis, I can appreciate attention to detail and responsiveness. They completed the job on time and on budget, while making the whole renovation process as painless as possible. That alone is a milestone that few contractors can claim. We highly recommend Charles and his team.
Elisabeth Patient - Major Home Repairs
This letter is to serve as a reference and a statement of appreciation for the work done on my home by CCC Holding Company. I selected CCC based on work I had personally seen at Village Animal Hospital. In January of 2003, I called Steve Clary and asked him to meet me at my home to look at what I believed to be a repair issue regarding water damage. Upon inspection, a significant issue of termite damage was discovered. Being on a limited income, finances were of the greatest concern for me. Mr. Clary offered some guidance which turned out to be of great benefit to me.
On the day the work began, originally one exterior wall would need replacing including the windows and doors. Several hours later I was called and asked if I could stop by the house, which I did. Mr. Clary's crew was there as was he. The work area had been secured and closed to alleviate as much dirt and dust from invading the rest of the house. Upon entering the area, Mr. Clary personally showed me the damaged sites which were larger than originally anticipated. This damage had traveled further down the wall. I was absolutely terrified when I saw that by simply putting a hand against a wall that it would fall. I felt I was about to become homeless. Mr. Clary alleviated my fears and assured me this could be repaired, but he wanted me to see this so that I would understand what was happening.
Today, my home is safe and secure. You would never be able to tell anything of this magnitude had happened. Not only were walls replaced, all the windows were also replaced. Several sliding glass doors were removed and beautiful picture windows were set in their place. He brought my home up to code. I feel the work has been of the highest quality. I have had no problems with anything to date. The entire crew from CCC Holding were patient, responsible, attentive to detail and most surprising of all, impeccable with their clean up and care of my possessions. I am also a multi-pet owner and they were very considerate of my needs for these pets to be safe and secure at all times.
I would not hesitate to use CCC Holding Company again. Since this project, I have asked CCC Holding Company for some assistance on other small items and if they could not do this, they recommended quality people to me. Not only did CCC Holding Company provide quality workmanship, Mr. Clary stayed within budget and has honored and delivered all contract agreements and personal guarantees. I feel this has been the best money I have spent on my home since I bought it.
Mr. and Mrs. Marlowe Eitel - Kitchen and Bath Renovation
We want to thank you so much for the excellent work you did on our kitchen and bath. You took a very old kitchen and truly made it beautiful. We are more than pleased with your work and support during the renovation.
Timothy Laird, M.D. - Home Addition
Just a note to thank you and your staff for completing our home addition in such a professional, low stress and friendly manner. For the complexity of the job, I was very impressed by the skill and persistence of CCC Holding Company. Frank Nyquist couldn't have been a better project manager. I would use you all again in a heartbeat. I've spoken to neighbors who've described nightmare projects and builders. I'm happy to give you my highest recommendation and I already have two people who've asked. Your billing staff was responsive. I appreciated the ease of getting statements via email. And you were very close on your estimate -- which we greatly appreciate.
Click here to see this project!
Carlos Sanchez - Hurricane Repairs
We were extremely lucky to find CCC Holding Company when in need of post hurricane repairs in 2004. This company returned our damaged home to mint condition by providing exceptional, reliable and fast work. They were professional, courteous and gave us the best cost estimate while using the highest quality materials. They will always be highly recommended by our family.
Renee,
Your only fault is that you do not sell yourself enough. You are so much more than you sold me. You are more than I thought a "real contractor" could be. You offer me everything. Charles is in command and in control and this is a smooth operation.
Renee and Charles and Steve,
This home turned out to look exactly like what you showed us it would. We feel so at home because it is as if we always knew what to expect.
Ed and Mary Jane Browning - Apartment Restoration
Thank you for helping us get through the insurance process of restoring AND renewing our apartment! The older we get, the more difficult it is to deal with all the paperwork and hassles that come with dealing with losses and needs for repairs.
Your whole team of workers could not have been more professional. It was a great blessing to have our stairway done the way we've always wanted it, but were never able to find someone to do the job. The carpeting is so perfectly done that we can't find the seams! And the painting is also done to perfection.
You, Charles, and Renee have been very accommodating in meeting all our needs. You are greatly appreciated and we will be referring others who need your services!
Keith McPherson - Homeowner
A major reason that I selected CCC Holding for my remodel job is that I became convinced that they would stand behind their work and customers with integrity.
CCC Holding demonstrated this with a few issues that came to light after our one-year warranty period had officially expired. In particular, CCC took responsibility for a septic issue that was arguably associated with the original system, and they provided a solution. I was especially grateful to be associated with a company that has a strong commitment and desire to provide solutions for their customers, rather than taking an evasive stance and looking for the easy way out.
The high quality of their work was also attested to by the fact that I had absolutely no issues when tropical storm Faye came through, a boast I was not able to make after the first tropical system tested my original home which was built by another contractor.
Once again Charles comes through! Thanks so much for fixing the lights and towel bars. This is another example of why Clary is the best. You know what they say, "Your Company is only as good as the people that represent you". Thanks again!
Steve,
"Thanks for the excellent service. The roof looks good!
Matt & Mary Beth Collins - Homeowners
Dear Clarys,
Thanks for helping us make a HAPPY NEW HOME! – We are still having fun making it ours!
Just wanted to say thanks again for not only helping us rebuild a beautiful home, but helping us through a very stressful time in our lives.
Dear Clary Family,
Thank you for the t-shirt! And thank you for doing such a good job on my house. I will definitely call on you for any needed future work.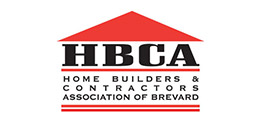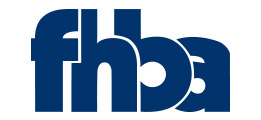 Location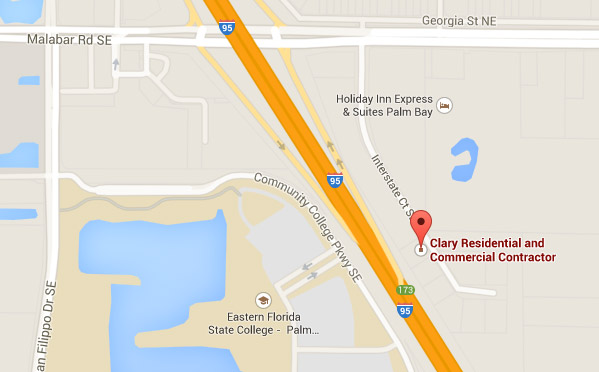 Click for Map
220 Interstate Ct. SE Suite B
Palm Bay, FL 32909
(321) 952-1199
---
Serving Melbourne, Palm Bay and Brevard County Cities
---
Licensing
Charles Clary
CBC050732
CCC1325680